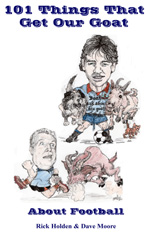 101 Things That Get Our Goat: About Football
Authors: Rick Holden & Dave Moore
Format: Softback
Price: £11.99 NOW ONLY £8.99
Publication date: 1st May 2012
ISBN: 978-0-9867899-2-2
Pages: 188
Description: 101 Things That Get Our Goat About Football is an amusing look at the state of the game, both in the UK and worldwide. Rick Holden, as an ex-Premiership player, has identified 101 things that really annoy him about the sport and Dave Moore, as a dedicated fan of the game, gives his perspective on the irritants that Rick has singled out. Sometimes the duo are in sync but other times they are opposed. Whether or not the duo are of the same mind or not, the comparisons make compelling reading and leave no stone unturned.
Some of the things included in the list are people in the game like commentators John Motson and Jimmy Hill, managers of the stature of Sir Alex Ferguson and Arsene Wenger, officials in the game, players like Gazza and Ronaldo, club owners and executives, wags and women in football, agents, journalists, armchair fans and so-called celebrity fans, stewards and cheating players.
Others entries consist of the Premiership, international competitions, individual domestic and international teams, extortionate wages, grounds and facilities, i-pods and mobile communication, fancy footwear, football clichés, fashion, minnow teams in major competitions, fast cars, programmes, stupid bookings and clubs thinking they are still 'big' clubs. Outside influences like TV, sponsors, early kick-offs, police, etc are also covered in a must read book that should be on the bookshelf of all supporters of the beautiful game. They are all in there, warts and all! This book can be personally signed by the authors with your own inscription if so requested by e-mail.
Biography: Co-written by Dave Moore, author of "Oldham Athletic: On This Day" and "Oldham Athletic: Miscellany" and Rick Holden, ex-Premier League footballer of Oldham Athletic and Manchester City fame and author of "Football: It's a Minging Life," his own autobiography. The duo also co-wrote "Lancashire Cricket Club: Every Day of the Year." The foreword is written by Andy Ritchie, Rick's ex- team-mate, and ex-Manchester United, Brighton & Hove Albion, Leeds United, Oldham Athletic, Scarborough and England U21 player and ex-Oldham Athletic, Barnsley and Huddersfield Town manager.
Reviews:
"This book is the equivalent of the Eric Cantona Kung Fu Kick! At some stage every player who has been abused by a fan has wanted to do what Eric did but either didn't have the balls/had second thoughts about/wasn't stupid enough to carry out the exercise. This statement tells you everything you need to know about the contents of this book and its authors.
Written in the same way as he played the game and lives his life, Rick gives you his opinion on the game he loves in his own way whether you like it or not. As good, however, is the response from co-author Dave Moore, who gives his 'both barrells' reply from a long life of watching football as a fanatic of Oldham Athletic, which gives this book a unique duality of opinion. This book is, however, to be read in the same manner as I have enjoyed their company, and Rick's in particular, over twenty years. Huge entertainment and no great seriousness." - Jon Hallworth (Former goalkeeper of Ipswich Town, Oldham Athletic, Cardiff City, Newport County and Bangor City)