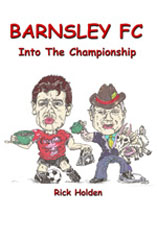 Barnsley FC: Into The Championship
Author: Rick Holden
Format: Softback
Price: £9.99 NOW ONLY £7.99
Publication date: 1st January 2013
ISBN: 978-0-9867899-8-4
Pages: 194
Rick Holden will sign an inscription in your book if requested.
Please add a note to your PayPal order or send an e-mail
Description: The true story behind the 'Balladromic' rise of Barnsley FC which transformed the also-rans and got them to the Championship. Andy Ritchie and Rick Holden overcame all the odds to help the Tykes win their first outright trophy since 1912 in a thrilling penalty shoot out at the Millenium Stadium against highly fancied Swansea. This story gives all the behind-the-scenes details of just how hard the job was and gives an insight as to how they transformed the miraculous achievement.
Biography: This is Rick Holden's fourth Book: "101 Things That Get Our Goat About Football"; "Lancashire Cricket Club: Every Day of the Year"; "Football: It's A Minging Life"; were all penned by this lad from the Yorkshire Dales who made it to the top of the English professional game against the odds. He moved into management with his long time pal and former Oldham Athletic teammate Andy Ritchie after Ritchie made him assistant manager at Barnsley FC. This book gives in depth details about coaching and physioing and tells of the struggles that the pair had to endure to get the Tykes promoted. Rick had a unique approach by using yester-years techniques with the modern day players.
Review: "Typical Yorkshireman – straight talking facts with no punches held" - Jon Hallworth (Former goalkeeper of Ipswich Town, Oldham Athletic, Cardiff City, Newport County and Bangor City).