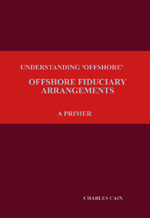 Understanding 'Offshore' - Offshore Fiduciary Structures – A Primer
Author: Charles Cain
Format: Hardback
Price: £59.99 NOW ONLY &pound39.99
Publication date: 1st. January 2014
ISBN: 978-0-9919266-3-3
Pages: 240
Understanding 'Offshore' - Offshore Fiduciary Structures – A Primer In any field of knowledge there are two types of books. There are technical books which are written for the professionals in the field. They are written in technical language which is unintelligible to a layman. Every statement of fact is supported by a note at the foot of the page giving the provenance of the statement and references to other publications. It may also contain some mathematics in the form of differential calculus. In any event, to the uninformed person it looks like gobbledygook.
The second type of book is what could be called the 'vernacular' book. This type of book is written for the uninformed layman. It is written in a simple uncomplicated style, and is successful if, having read it , the reader becomes aware that the subject is more complex than he first thought, and is keen to progress further in expanding his knowledge of the subject.
This book is a vernacular book. That is why it s described as a 'primer'... In recent months a number of politicians, bureaucrats and journalists have distinguished themselves by their uninformed and potentially damaging comments and writings on the subject of tax planning. There are some serious consequences resulting from failure to understand how taxation impacts on the economy of a country. That does not mean that there is not a need for reform in the field of taxation, far from it. The need for reform is more urgent than ever.
The first three chapters set the scene. What constitutes a tax haven? Where, if anywhere, is offshore? What about the morality of taxation? What is a tax anyway, and what are the economic effects of taxation?
The next seven chapters look at the legal vehicles used in fiduciary structures. Two chapters are devoted to trusts, which are widely misunderstood, even amongst lawyers. Chapters follow on Companies, Mutual Companies, Foundations, LLCs and Partnerships.
Finally the last chapters look at Contracts and Time, Charities, Control., Asset Protection, and Combining Entities in Structures.
Reviews:
James Kingston - offshoreinvestment.com
---
Obituary of Charles A Cain. Charles Cain was and therefore always will be a Son of Peel, Sunset City on the West Coast of the Isle of Man.
Charles was born in Peel in 1938 into an educated background and accelerated himself to King's College School, Cambridge and Marlborough College. He completed two years of National Service with the Black Watch Royal Highland Regiment and then King's College, Cambridge where he read economics. For the next 15 years he gained his knowledge in the world of banking. Working in places such as Uganda and Kenya before returning to the Isle of Man via London and Manchester. From 1975 he ran his own business in corporate and Trust Management services finally retiring in 2013 from office life but never relented his interest in the financial world.
Far from the general view of the turgid world of banking, Charles was a true Renaissance man and embraced all aspects of life to the full from involvement in sports such as boxing, sailing and rugby to the arts of choral singing and choir and politics before becoming a member of the House of Keys, the Isle of Man Parliament. I was lucky to be in a unique position as I got to know this wonderful chap on a professional and personal basis. His desire and his approach to his physiotherapy rehabilitation as he battled Parkinson's disease was an inspiration and was a window into his character and reasons for his success in his life. We used to have a laugh during every treatment session and he always looked on the bright side of life.
Charles wrote a book on 'Offshore Finance' and asked us at Wibble Publishing to produce it for him. I am so proud of this work and I am sure it will become the Bible on Finance in general. It is a brilliant read. Charles died on Wednesday night the 18th March 2015 in Nobles Hospital on the Isle of Man and will be missed yet fondly remembered and admired by all who met him. He was a true Son of Peel and his on-going legacy will burn bright and long.
R. W. Holden