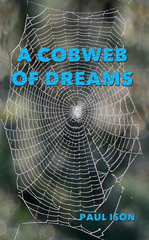 A Cobweb of Dreams
Author: Paul Ison
Format: Softback
Price: £12.00
Publication Date: December 2022
ISBN: 978-1-987860-45-0
Pages: 366
Description: Ellen Ferris is a woman haunted. Haunted by memories that cannot be her own. Somehow she knows that to unlock the secrets she would need to look at her ancestry and, with this in mind, she employs a genealogist, Alan Watson, to investigate.
His investigation reveals a startling series of events in which they both become embroiled and this alerts Ellen's husband, Tom, who suspects they are having an affair. As he seeks terrifying revenge things come to a terrible conclusion in the village of Towersley Frith, a place where they all have history.
Biography: Paul was born in Loughborough and now lives partly in the Isle of Man and partly in his property in Greece. A graduate of The Open University, he maintained an interest in writing from his childhood and finally sat down to write "that novel" in his 40s. "That novel" has subsequently become the eleventh novel. Paul's career has taken him through a few jobs, the most relevant of which was a time spent in Whitehall in Ministerial Private Office where he drafted and edited letters for the Prime Minister, Deputy Prime Minister, Secretary of State for Health and various other ministers and junior ministers.