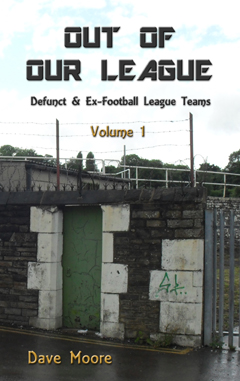 Out of Our League: Defunct and ex-Football League Teams - Volume One
Author: Dave Moore
Format: Softback
Price: £14.99
Publication date: August 2013
ISBN: 978-0-9919266-1-9
Pages: 364
'Out of Our League: Defunct and ex-Football League Teams' is the ultimate guide for football supporters and soccer historians as it contains information about every football team that has ever graced the Football League but no longer does so. It explains why the teams left the League and gives details of their League records, FA Cup records and League Cup records. Notable players and managers are mentioned along with club records and individual player statistics.
Each team has a history section which covers their progress from being founded to their eventual demise at the loss of their Football League status. A section also mentions the rise of subsequent Phoenix Teams and follows their progress up to date. The author has toured England and Wales to record what is left of these clubs and has scoured the country for photographs of the teams, their grounds and mementos. The publication is littered with photos and each individual club has a hand-drawn map of their former and/or current grounds to indicate where they were situated. This gives aficionados an opportunity to visit the sites and to experience a journey back in time. Many followers of the game still think that football was better when it was still a working man's game, and this book allows such memories to flood back.
Review: "This is a great read with plenty of historical facts and great photos to reminisce over. It will entertain all football fans, not just those with an interest in the teams contained within." - Tony Waiters (ex- Blackpool, Burnley and England goalkeeper and former manager of Plymouth Argyle, Vancouver Whitecaps and the Canadian international team).
Review: "It is clear that Dave Moore is an Oldham Athletic supporter. In fact it is this fanaticism that has helped to create this wonderful book on football clubs we have lost but not forgotten. Because of his dedication, research and enthusiasm, to say least of his vast knowledge of the game that these clubs will always be remembered. He has travelled the length and breadth of the British Isles following his beloved Oldham to many of these grounds and has also undertaken journeys just to visit far-flung places - a true football fan. Some clubs will rise from the ashes whilst others are gone forever but thanks to this book, with its images, they will always be there! I have visited many of these myself and love the diversity that was the individual football ground which, sadly, is not the same today. It is a must for all genuine football fans who love the game for its unique self. I enjoyed reading it and so will any follower of the beautiful game!" - Rick Holden (former Burnley, Halifax, Watford, Oldham, Manchester City and Blackpool player and manager of Peel AFC and the Isle of Man international team).
Review: ISN Soccer published a full review of both volumes at This Link
Volume One includes the following teams: Aberdare Athletic, Accrington FC, Accrington Stanley, Aldershot, Aldershot Town, Ashington, Barnet, Barrow, Bootle, Boston United, Bradford Park Avenue, Burton Swifts, Burton United, Burton Wanderers, Cambridge United, Chester City, Darlington, Darwen, Durham City, Gainsborough Trinity, Gateshead, Glossop, Grimsby Town, Halifax Town, Hereford United and Kidderminster Harriers. It is hoped that Volume Two will be released in 2014.