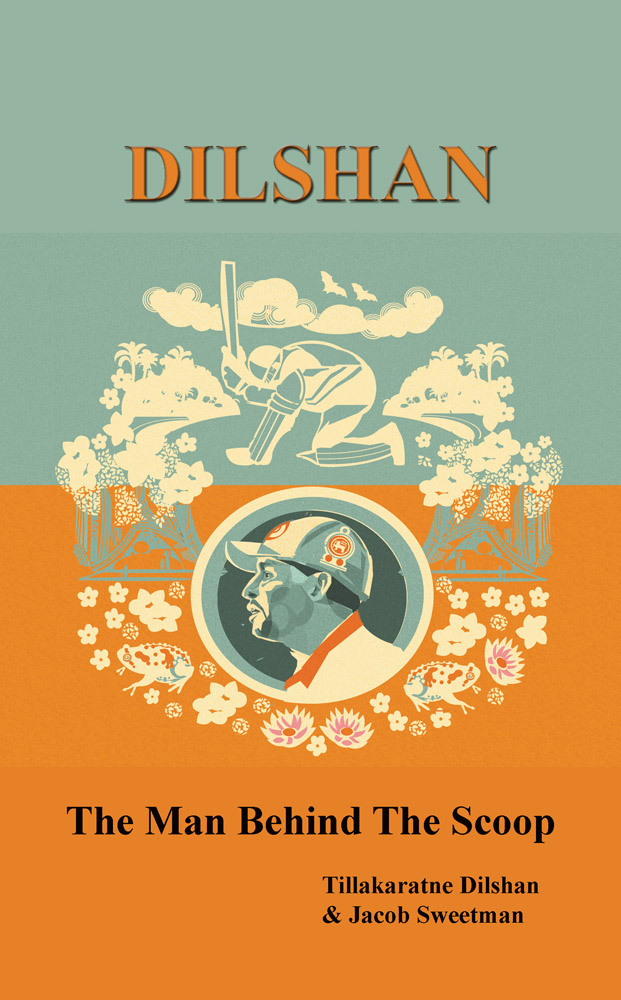 Dilshan: The Man Behind The Scoop
Authors: Tillakaratne Dilshan & Jacob Sweetman
GET 10% OFF - see below
Format: Softback
Price: £9.99
Publication date: June 2017
ISBN: 978-1-987860-13-9
Pages: 144
This book tells the story of an explosive batsman who is one of the best fielders in the world and a great off-spinner. Dilshan's life has been incredible enough but behind all this is the story of a man who has had to struggle to beat the consequences of poverty. He grew up in Sri Lanka, a country that is still very much divided between the haves and the have-nots, and also one that is still only re-emerging after thirty years of civil war. It must be remembered that Dilshan loves his country enormously. The pride he has in representing it is almost unmatched, and this will be a recurring theme throughout the book – a "love letter to Sri Lanka," if you will.
The book deals with all of this, his problems with the higher echelons of cricketing authority, his doomed first marriage and charmed second one. It also tells glowingly about great players he has played with, and against, about scoring a century at Lords as captain and about reaching four World Cup finals. It charts the tragic events of the Tsunami and the terrorist attack in Lahore. It deals with the IPL and the challenges cricket must face in the future. In addition it explains his love for the traditional form of the game, and what it all means to him. It is a romantic story of modern cricket from one of the world game's biggest stars.
It is expected that the book will be available in June 2017. We are offering 10% off to all customers who pre-order. All pre-ordered ooks will be dispatched within 24 hours of arriving in our warehouse, after which the full retail price of £9.99 will then apply. Demand will be great so don't miss out.
---
Reviews:
"I have played with and against Dilshan for many years now, and I would have to say that he is exactly the type of player I would want on my side and exactly the type of player I don't want to be facing. He is a wonderful sportsman and competitor who will always put his team first, and who's pride in playing for Sri Lanka shines through as much as it does for whoever he is representing. This book is the story of a true, world class cricketer."
AB de Villiers
---
"Tillakaratne Dilshan is a remarkable man and cricketer. He's one of the finest and most exciting players that Sri Lanka has ever produced and I am proud to have shared a dressing room with him. A fighter and uniquely strong character who loves playing for his country and never gives up, he is at his most dangerous when nobody else has given him a chance. He has been a true match-winner for the country. It is in this way that his book truly represents him."
Mahela Jayawardene
---
"A lot of people have already forgotten how significant a player Dilshan is in Sri Lankan cricket history. The book will make people see the human side of it and odds he had to climb vividly. It is an important book, from that angle. The Lahore attack, that crowded train ride that almost had him in an accident, in particular stands out. All in all, it's a good book, besides being enjoyable."
Jaideep Varma (Film maker, broadcaster, cricket statistician and inventor of the Impact Index)
---
"Dilshan, in a way, was a pioneer during his era. You could get a sense of how Dilshan and Sri Lanka are so interconnected to each other and why he wouldn't have been the same player if he was born in any other country. A really enjoyable, informative and a satisfactory read on a player I grew up admiring and following. I am fascinated by how the minds of these great cricketers work and I was not left feeling disappointed at all."
Soham Sarkhel (co-founder of the Impact Index)