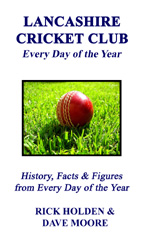 Lancashire Cricket Club: Every Day of the Year
Authors: Rick Holden & Dave Moore
Format: Softback
Price: £8.99
Publication date: 21st March 2011
ISBN: 978-0-9867899-0-8
Pages: 174
Description: Lancashire Cricket Club: Every Day of the Year is a chronological record of facts, figures and trivia that have occurred on every day of the year during the life of Lancashire Cricket Club and tells the story of Lancashire's long and eventful history. With individual diary entries for every day of the year, plus multiple listings on busier dates, it is full of Old Trafford heroes (and villains) and tells the tales of the matches and the characters, the promotions and relegations – indeed, all the events, however big or small, that have helped make Lancashire CCC the club it is today. The book begins on 1st January and continues through to 31st December and is a fascinating collection of happenings, some good, some not so good but all will be of interest to Lancashire cricket fans, young and old. It contains details of magnificent batting displays to embarrassing collapses, serious controversy to comedy moments, it's all include. The book takes the reader on a journey from the very start of Lancashire cricket through to the present day with many quotes from the big and not so big names.
January and February tells of many births and deaths along with Lancashire players who were representing their countries in test matches. March and April tells of staff appointments, tours, misdemeanours, season openers and Lancashire women! The summer months concentrate on league games at all the various venues used by the club in both home and away matches along with details of the many other games like University matches and Twenty20 competitions. Many first-class records were broken and these too are explained in some detail. The winter months include miscellaneous matches, promotions and relegations, trophy wins, controversial sackings and sensational signings. This book can be personally signed by the authors with your own inscription if so requested by e-mail.
Biography: Written by Dave Moore, author of "Oldham Athletic: On This Day" and "Oldham Athletic: Miscellany", and Rick Holden, ex-Premier League footballer of Oldham Athletic and Manchester City fame and author of "Football: It's a Minging Life," his own autobiography. The foreword is written by Bob Bennett - Lancashire Cricketer (1962-66), Chairman of Lancashire County Cricket Club (1987-97), Chairman of the Test and County Cricket Board and tour manager of England's tour of the West Indies in 1998, Lancashire Cricket Committee Member (1997-date). The book a must read for every lover of the game of cricket and is written in an easy-to-read style that should appeal to Lancashire CCC followers of all ages.
Reviews:
"This is a great read, a humorous diary of facts about a sleeping cricketing giant. Whether I was scoring a ton for England at Lord's against the West Indies or drumming at the Royal Albert Hall, my time at Lancashire was never dull. I played hard and partied hard." - Graeme Fowler (Lancashire and England 1979-1992)
"I thoroughly enjoyed reading this book, which brought back some great memories from my time as a player at the club. There's plenty of information which will entertain all cricket fans and once you start reading it you'll find it hard to put down." - Warren Hegg (Lancashire and England 1986-2005)
"This is a great read, funny and informative about my adopted county." - Gary Keedy (Lancashire CCC 1995-present)