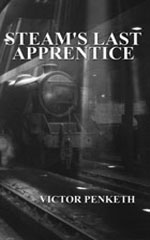 Steam's Last Apprentice
Author: Victor Penketh
Format: Softback
Price: £12.99
Publication date: 11th January 2013
ISBN: 978-0-9867899-7-7
Pages: 192
Description:
A chronicle of colourful anecdotes,
"Steam's Last Apprentice"
traces Victor's working life from the moment he joined British Rail in 1959 as an innocent sixteen-year-old, to his departure as a much wiser fellow some seven years later. The Victorian railway systems are explained, but not in technical jargon, in details which would make today's Health & Safety experts cringe! The infiltration of the inevitable diesels which led to the closure of many of Britain's engine sheds, and Vics move to Newton Heath's relentless shift work patterns, had a direct bearing on the path that his life followed.
Biography: Victor Penketh's first book "Steam's Last Apprentice" tells the story of his life as a railway worker from the age of sixteen. It is well documented with stories that begin on his first day at Lees Engine Shed in Oldham. The book is written with a sense of realism and humour and provides an insight into what life was really like cleaning, servicing and repairing steam engines in the harsh post-war working world of Northern England. There is grime-a-plenty with rats and rags with many lighter moments remembered as Vic started to move up the chain from lowly cleaner to 'passed cleaner' where he took on actual firing duties.