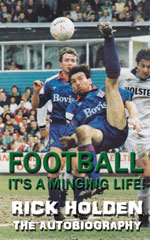 Football: It's A Minging Life - Rick Holden: The Autobiography
Author: Rick Holden
Format: Softback
Price: £12.99
Publication Date: 2010
ISBN: 978-0-9867899-9-1
Pages: 194
Sold out. Now only available in e-book version.
Description: Rick Holden and the story of his 'minging' life is not just a tale about football life, but more a tale of life and football. During his classical rugby-playing grammar school education, he was constantly told that he had left it too late to make it in professional football, but he had belief in his own abilities. He overcame those obstacles and life's problems, and he did it with a smile on his face. Rick's rise from the Fourth Division with Halifax to playing in the First Division the following week with Watford was meteoric. His autobiography begins at Burnley and covers his moves to Oldham Athletic, Manchester City, Blackpool and finally Peel AFC on the Isle of Man. It tells of the problems he met and how he surmounted them all with his sense of humour, a trait that did not always meet with the approval he anticipated.
The managers and coaches that Rick worked under are Mick Jones, Billy Ayre, Steve Harrison, Joe Royle, Willie Donachie, Peter Reid, Brian Horton, Dave Moss, Graeme Sharpe, Sam Allardyce and Paul Hart. He also worked as physiotherapist and assistant manager to his great friend, Andy Ritchie, when he was at Barnsley. The book is filled with hilarious stories of the antics that Rick got up to at his various clubs and explains in detail, sometimes too graphically, some of the tricks that he played on his teammates and how he tried to live his life around the distractions that football imposed. Rick is a survivor and never gives up, and his autobiography conveys the message to aspiring athletes that if you persevere you will succeed. This book is about his life and not just an episodic detail about football players and games. Rick talks honestly and controversially, and this book is a must read.
Biography: Rick is a lad from the Yorkshire Dales who was educated in a classical rugby playing grammar school and then with a University background he made it to the top of the English professional game against the odds. He became the first and only person from that region of the country to do so. He carries with him throughout his career his rather unusual student approach to life which often clashed with the more dour and austere world of professional football often with hilarious and sometimes tragic consequences. The book also highlights the last throws of the old professional era as it emerged into the present Premier League status and it throws up some poignant philosophical comparisons and differences between the old style world and the new game today. Also it shows that the world of professional football is far from glamorous and yet it never darkens too much and always carries with it the spirit of footballers' sense of humour to deal with the problems they faced.
Rick made it into the fourth division with Halifax Town. Then the meteoric rise from fourth division one weekend to the First Division with Watford the next. This does not happen any more. The catalystic effect on an average Second Division Oldham side gaining promotion and Rick's subsequent move to Manchester City for 1.2 million six years after making his professional debut. The book also deals with coming down the other side with Oldham and Blackpool and then dealing with life after football and back into amateur football in a new country which the Isle of Man definitely is. There are also details about coaching and Physioing and being assistant manager at Barnsley in 2004. Rick had a unique approach by using yester-years techniques with the modern day player.
Reviews:
"Written in his own inimitable style, that I know only too well! This book is football life with a difference - RICK HOLDEN is that difference. Funny and totally absorbing." - Andy Ritchie: Oldham Athletic (1987-95 and 1997-2001) Oldham Athletic manager (1998-2001)
"I don't know anything about football but I do know Rick Holden. He is a splendid chap and, as it turns out, a first-class writer. This is a most engaging book. I enjoyed it. You will too. Despite the football." - Andy Kershaw: Broadcaster, disk jockey and world music champion