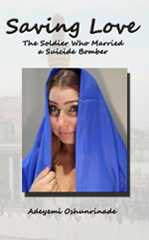 Saving Love: The Soldier Who Married a Suicide Bomber
Author: Dr. Adeyemi Oshunrinade
Format: Softback
Price: $15.99 NOW ONLY $8.99
Publication date: 17th August 2012
ISBN: 978-0-9867899-4-6
Pages: 176
Description: Jason Dugard realized that his dream of going to college must be put on hold. The United States had been attacked and joining the US Marines was his only option to show his patriotism. When in Baghdad on a UN mission he fired a stray bullet which killed an Iraqi passerby. A 25-year-old Iraqi girl volunteered to go on a suicide mission to avenge the death. She was wired to turn her body into a human bomb, but could she go through with it?
'Saving Love' is a fictional account of what conditions were like during the American invasion and war in Iraq between 2003-11 and tells of the two different worlds troubled by conflicts and clashes of civilizations. The reader is taken on an emotional journey to discover events in Iraq, sometimes very graphically, as yet untold or revealed in any work of fiction.
It is a story of love, sex, hate and war as seen through the mind of an Arab woman with the preconceived notion and the hatred of the West implanted through Islam and terror. Would Khadija do the impossible and commit the abomination of abandoning her religion, culture and tradition to take up with the 'infidel' she was recruited to kill? The story is unique in the way it incorporates the reality of today's world into a work of fiction and the reader is led to discover events in Iraq that would not normally be revealed to the outside world.
Biography: Dr. Adeyemi Oshunrinade {EJD} is the author of 'Murder of Diplomacy' (2010), 'Wills Law and Contests,' (2011) and 'Constitutional Law - First Amendment' (2012). Adeyemi completed his bachelor at Brooklyn College and his Master of Science at Long Island University, New York. He went on to take PhD classes in conflict analysis and resolution at Nova Southeastern University in Florida, worked briefly at the United Nations and completed his Executive Juris Doctor degree at Concord Law School in California. 'Saving Love' is his fourth publication and his first work of fiction. He is currently at work on his fifth publication 'Criminal Law-Homicide.'