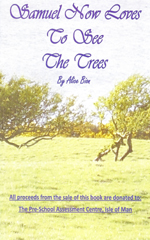 Samuel Now Loves to See the Trees
Author: Alice Bion
Format: Softback
Price: £2.00
Publication year: 2011
Pages: 20
Description: Samuel Now Loves to See the Trees is a moving collection of poems about my son Samuel's life and his struggle to understand the world around him. Samuel was born on 28th February 2007, one of a set of twins, and the books is primarily a gift to him so that when he is older he will have a record of his incredible journey.
Samuel was referred to the Preschool Assessment Centre Pulrose Douglas at 18 months for development delays. The Centre brings together a group of practitioners from Health, Education and Social Services to provide multi disciplinary assessments and programmes for children with additional and special needs under five years of age.
With the support of Preschool and hard work from Samuel, he has come a long way and no longer attends preschool.
Biography: Alice Bion felt that it was time to give something back to the Preschool Assessment Centre Pulrose Douglas as a thank you. So this book was birthed and she is hoping to raise enough money through the sale of it for the Preschool to buy new equipment. Wibble Publishing is taking no commission from any sales and readers are asked to contact Alice direct on 07624 453543 to arrange delivery and costs for postage.
Reviews:

Please see this link