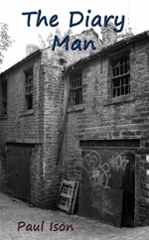 The Diary Man
Author: Paul Ison
Format: Softback
Price: SOLD OUT in softback
Publication date: 21st August 2013
ISBN: 978-0-9919266-4-0
Pages: 482
Description: Roy Barlow and Alex Blain, two Detective Inspectors from different ends of the country, have used unorthodox practices in the past to solve crimes. Attending a training course in the Midlands the pair meet. Someone out there knows them both and sets about on a murderous spree in London and Leeds to discredit them both. The signature of the killer is that he leaves a short diary on each body detailing how he stalked the victim. The two detectives resort to type and call in the people who helped them in the past. Little do they know that one of the Detective Inspectors becomes earmarked as the next victim. Will they realise in time? Will the killer nicknamed the Diary Man prevail?
Biography: After the success of his first two novels 'A Crooked Sign on Albion Street,' and 'The Path,' Paul Ison concludes the trilogy with the 'Diary Man.'
Born in Loughborough, Paul graduated from the Open University and spent part of his career in Whitehall drafting and editing letters for, among others, the Prime Minister.